Makeblock Neuron - Inventor Kit
Bestand:

0

Artikel-Nr.:

143545

Hersteller:

Makeblock

Hersteller Artikel-Nr.:

mb_P1030001

Gewicht:

1kg
Makeblock Neuron Inventor Kit, ein Kit mit programmierbaren elektronischen Bausteinen aus...
mehr
Produktinformationen "Makeblock Neuron - Inventor Kit"
Makeblock Neuron Inventor Kit, ein Kit mit programmierbaren elektronischen Bausteinen aus Schall u. Licht Sensoren, kombiniert mit intuitiver Flow-basierter Programmierung. Neuron soll Kindern und Jugendlichen helfen, Programmierung zu verstehen und Spaß an Technik und Elektronik zu haben.
Eigenschaften
Craft eine neue Erfindung in nur 5 minutes:Building Blöcke sind im Handumdrehen mit magnetischen Pogo Pins verbunden. Benutzer können die Blöcke einfach zusammensetzen, um kreative Gadgets zu erstellen, ohne Code schreiben zu müssen.
Keine Programmiererfahrung erforderlich: Die grafische Programmierschnittstelle in der Neuron-Applikation ermöglicht es Anfängern, Neuron-Anwendungen einfach zu erstellen und grundlegende oder erweiterte Funktionen (z.B. IoT) in ihre Erfindungen einzubauen.
Kontinuierlich aktualisierte Erfindungshandbücher: Die Neuron App wird mit Erfindungshandbüchern und Video-Tutorials geliefert, um Ihnen zu zeigen, wie Sie mit dem Inventor Kit mit dem Bauen beginnen können. Folgen Sie, dann führen Sie mit Ihren eigenen kreativen Ideen.
Kompatibel mit der Makeblock-Plattform und den LEGO®-Blöcken
mBlock-Unterstützung: Neuron-Gadgets können mit mBlock auf dem Desktop und der Neuron-App auf mobilen Geräten gesteuert und programmiert werden.
Das magnetische Design auf der Rückseite der Neuron-Blöcke erleichtert den Heimgebrauch und die Demonstration von Laborarbeiten. Sie können Ihr Gadget einfach auf einen Kühlschrank oder ein Whiteboard stellen, um es zu zeigen und zu erklären, wie es funktioniert.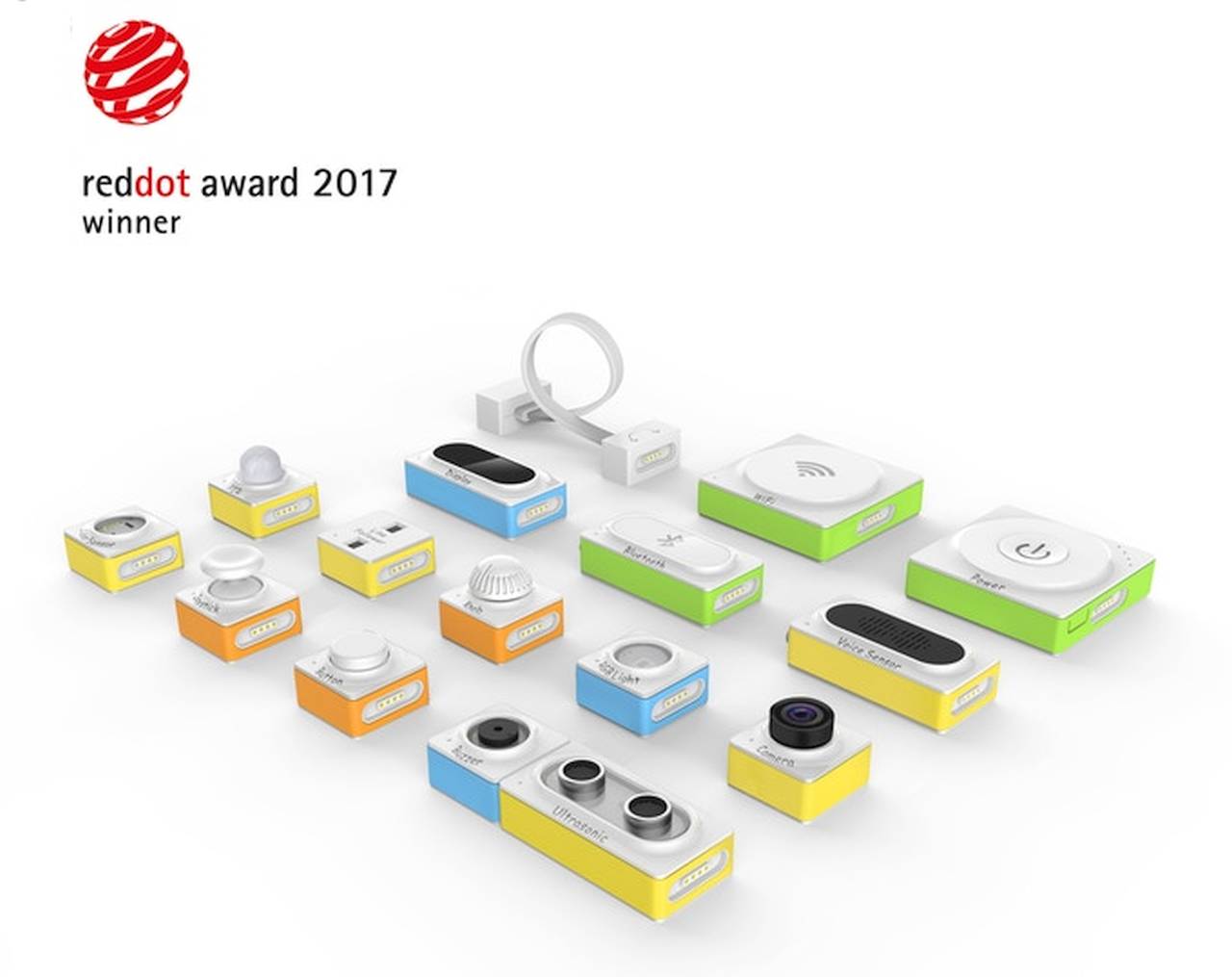 Neuron Inventor Kit

1 x Power
1 x Funny Touch
1 x USB Cable (20cm)
1 x Bluetooth
1 x GND Wire
9 x Neuron Board
1 x Buzzer
1 x Funny Switch
36 x Friction Pin Connectors
1 x Dual Servo Driver
1 x LED Panel
20 x Rubber Bands
1 x Servo
1 x Gyro Sensor
Tech Specs of Neuron

Battery
37V 950mAh?Output Voltage 5.1 V ?Input Voltage 5V ?Input Current <1A? Working hours Normal strength of more than 90 minutes ?Working temperature 0° C ~ 45° C
Bluetooth
Specifications BT 4.0?Frequency Band 2402 - 2480MHz?Output Power Class Max. 4dBm
Servo
Operating Voltage 4.5V ~ 6.0V?Idle Current 6±1mA?Limit Angle 180° ± 10°
Product size
230*170*69mm
Product weight
979g
Weiterführende Links zu "Makeblock Neuron - Inventor Kit"
Produkt Video